It's Afternoon Tea Week and here at Hilltop HQ we're more than ready to sit down with a lovely cup of tea and a slice of cake- are you? It's no secret that we're huge fans of delicious baked goods here- cakes, biscuits, scones, we'll take them all! So if it's been too long since lunch time and it's still too long until dinner time, this week you have the perfect excuse to put the kettle on and indulge in that slice of cake. And we've got the perfect recipes to make this week even sweeter!
What's the big deal with afternoon tea?
Afternoon tea is one of those great British traditions that just work. Intended as a way to stave off midday hunger, this is one custom that we all seem to enjoy, but rarely make the effort to maintain. But it makes complete sense to us- why snack mindlessly on junk foods or sugary drinks? Instead, make it an event. Take some time out to sit down and eat some proper food, without feeling rushed, or guilty and without resorting to raiding the biscuit tin in desperation when the hunger pangs become too much.
The tradition of afternoon tea actually dates all the way back to England in the 1840s, when dinner was usually served between 7-9pm. Back then, there really was a long gap between lunch and dinner, so afternoon tea was born, and the tradition quickly took off among the upper and middle-upper classes. Fast forward to today, and afternoon tea really isn't something that only a favoured few can enjoy.
Thanks to Queen Victoria, who adopted the practice and turned afternoon tea into a social event, afternoon tea has become a way of connecting with friends and family- and while we don't necessarily have a dress code these days, it's still somewhat of a special event. And we love this! Afternoon tea is one of life's little pleasures for sure- a break in your day to sit with friends, enjoy good food and catch up with news. Magical.
Top tips for afternoon tea success
Afternoon tea has evolved over time, so there are no hard and fast rules that you need to follow. Phew! That said, a little forward planning never hurts, so here are our top tips to make it a success.
Send your invites. No need for paper though- e-invites are a much more eco-friendly option and your guests can add the date to their calendar too.

Plan your menu. I mean, afternoon tea is all about the food and drinks on offer, so you're going to need to make sure you deliver!

Invest in a proper teapot. Trust us, you'll never look back!

Set aside some time for baking. Yes, it's easy to grab a few cakes from the supermarket, but there's nothing like a good home baked selection so if you have time, then go for it.

Make sure you have a tiered cake stand for the centre of your table- and decent crockery too.

Decorate your table with fresh, in-season (and bee friendly!) flowers.

Bunting always goes down well- choose biodegradable to cut down on unnecessary waste.

Make your own name labels- and why not make them extra special? We love the idea of whipping up a bath of our simple biscuits and icing your guests name on top. Cute!
The perfect tea party platter
On to the food. Our favourite part of any party- and especially a tea party! Tea party tables are traditionally adorned with a variety of mouth-watering delicacies- from cucumber sandwiches to Victoria sponges and melt-in-the-mouth fairy cakes. Really, what's not to love?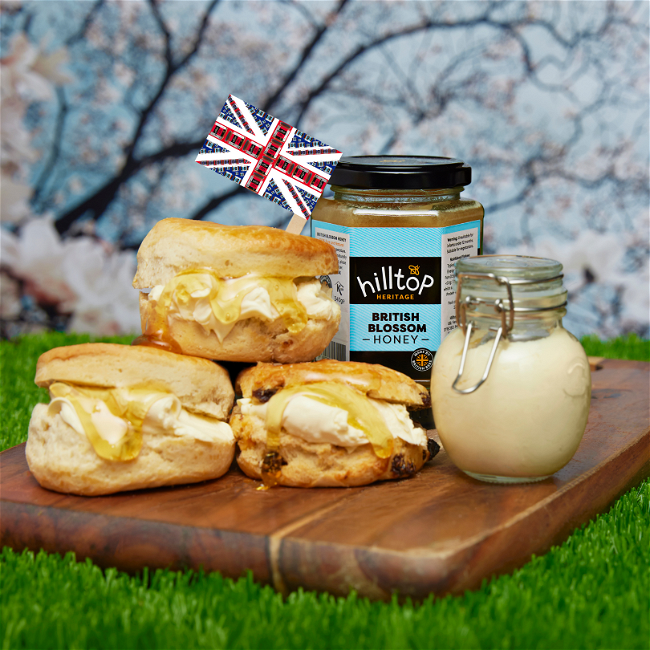 These are our top five must-haves for your tea party platter:
Tea. Tea. No afternoon tea party is complete without it! You can go traditional, or you can try our delicious Ginger Honey & Lemon Tea for something a little different. This time of year, iced tea is always a big hit too- we love making up a huge jug beforehand, and sweetening it with a generous tablespoon of our delicious British Blossom Honey.

Add a slice of lemon and you're good to go!
Cakes - Because when it comes to afternoon tea, it's perfectly acceptable to have your pudding first! Our must-haves include our amazing Ginger and Honey Cake (tastes divine any time of year!), our quirky must-try Honey, Parsnip and Coconut cake, of course our Hilltop Honey Scones, and our slightly more decadent Chocolate Orange Brownies too. And let's not forget our delicate Hilltop Madeleines- they're simply gorgeous.
Biscuits - You just have to try our simple Hilltop Honey & Cinnamon biscuits, not to mention our Hex Honey Biscuit Smores for a slightly more 'outdoorsy' vibe. Oh! And no afternoon tea party can really be complete without shortbread biscuits. Try our Citrus Summer Shortbread recipe.­
Sandwiches - I mean, it goes without saying really. Up your filling game with our Honey & Mustard Roast Ham, or try something a little different with our Cut Comb, Brie and Red Onion Canapes or our Fig, Feta & Prosciutto Toast.
Drinks - If tea isn't your thing, or you fancy turning the tea party into more of a celebration (and why not?!) then you might want to include a couple of these gems: our Orange Blossom Prosecco Fizz, Mint to Bee Cocktail, or Thyme & Plum Gin Fizz always go down well!
Now we have given you some ideas to celebrate afternoon tea week with our honey - and definitely in style - get together with your friends and family and have the most British tea week ever!